Public Speaking versus Individual Dawah
Today we see many aspiring Daees want to do public speaking and emulate some of the popular Daees of this time. Which is better –Dawah one on one or Public speaking?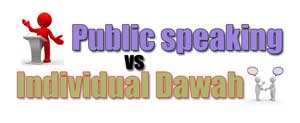 Basically different people have different capabilities; some are good in public speaking and addressing a large audience, some are good at discussions and conversations one on one and some are capable of writing well – using the pen to do the Dawah. Not everyone is capable of doing everything and hence we should discover our capabilities/strengths and use that to do Dawah accordingly.
To do Dawah, it is better to do it on an individual level (one on one) as this is more of conversation and discussion. Therefore, talking to an individual in the form of a discussion and directly meeting him is more effective. With regards to public speaking, the mode of communication is one-way and the chances for the audience to get their doubts clarified are very limited. We are aware of the Q and A sessions after the lecture but we hardly find a person getting a chance to ask more than one question. A one on one discussion is a two-way communication where we not only convey the message but clarify their doubts by responding appropriately to their questions. Prophets and Messengers used to do Dawah more at an individual level and it is more effective.